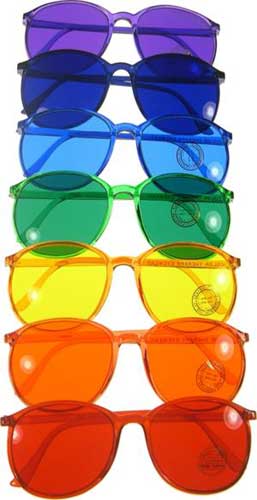 woohoo!  my color therapy glasses shipped today.
that's right.  color therapy glasses.  theoretically, they stimulate certain "chakras" when you wear them, creating a mood of energy (yellow), peace (green), inspiration (purple), etc.
i don't really believe that, of course.  i just think they look super-fun and exciting and sort of like candy.  and then if they work, bonus.  but, i mean, i guess they could.  painting a room changes the mood drastically.  so maybe painting everything i see will too.  we'll find out.
anyway, i ordered green and indigo (not pictured — it's a dark purple).  let's see what they're supposed to do..
green: balance, peace, stress reduction, calmness, self control, hope, soothing atmosphere, harmony, equilibrium.  apparently stimulates the heart chakra.
indigo: highest positive vibe, serenity, imagination, accurate perception, understanding, strong deep sleep, creativity, reason, intuition.
wow, i hope the green ones work.  stress reduction and calmness?  yes please.